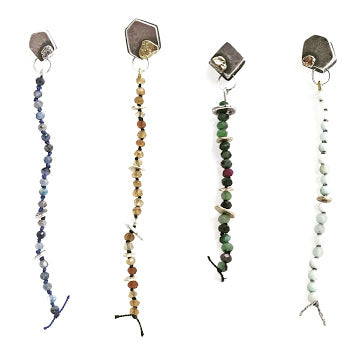 Nuggets Stud + Dangle Earrings
$335.00
GMA-OOAK-NG-007
People sometimes question the knots at the bottom end of these stud + dangle earrings in my Nuggets Collection. "Are they supposed to have loose ends like that...." Well, yes. Sure. I promise you, it's intentional. ...✨✨...

Folks like it when things are tidy. I like tidy, too. But the truth is that most often things are not tidy. Geez. Not even close. So. Not. Tidy. One of the greatest lessons of my life has been learning to be okay when the world around me is messy. Less than tidy. Peace begins within and above. Not around. ..✨..

These earrings are completely secure. The stud portion is a hollowform in oxidized sterling with appliquéd ingots in either gold or silver. The dangle sections are natural gemstone nuggets hand knotted on silk strands. 
And the ends are loose. And secure. 😀
***
Hand fabricated and knotted - hollowform stud featuring recycled metal ingot appliquéd in either sterling silver or 14K yellow gold, with tiny little gemstone nuggets dangling beneath, hand knotted on silk with more recycled metal ingots inserted along the way.